DATE: Monday, Oct. 23, 2017 
TIME: 7:30 p.m.
LOCATION: Baldwin Auditorium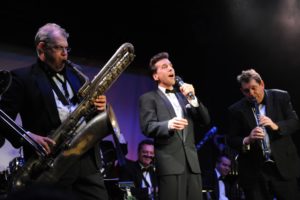 You will not want to miss this evening of big band music featuring the songs of George Gershwin. "American Rhapsody: The Gershwin Songbook" is an evening of iconic American music by one of the most indelible composers of the 20th century. After nearly a century, Gershwin's music remains as fresh and irresistible as it did during the Jazz Age. His poetic melodies and eclectic works of everything including Broadway, Hollywood, opera and classic American standards have left a legacy audiences love to hear again and again.
The Gershwin Big Band, led by Michael Andrew, whom The New York Post called "the next Harry Connick, Jr…a natural bandleader," brings Gershwin's music to life in this brand-new program. The evening combines a 17-piece band, vocalist Andrew plus an additional vocalist and much more to perform "I Got Rhythm," "Someone to Watch Over Me," "The Man I Love" and many other time-honored Gershwin standards. The Gershwin Big Band is a unique collection of worldclass jazz musicians assembled in the traditional big band configuration ideal for the Gershwin songbook.
With an incredible dynamic range and proclivity for swing and improvisation, the big band style is ideal for presenting the works of Gershwin, who influenced American music at a time when big band was becoming the definitive sound of pop.