ANNOUNCEMENT: Ticket Information on Golden Dragon Acrobats
Tickets for this event are sold out. Doors will open at 7 p.m. the night of the event.
Thank you for your support of the Kohlenberg Lyceum Series.
DATE: Saturday, Feb. 17, 2018
TIME: 7:30 p.m. (Doors will open at 7 p.m.)
LOCATION: Baldwin Auditorium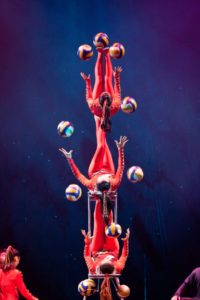 Back by popular demand, you will not want to miss the amazing Golden Dragon Acrobats as they return to the Baldwin Auditorium stage. The Broadway veterans hail from Cangzhou, Hebei province in China and have toured the United States continuously since 1978. Its members are athletes, actors and artists who have studied and trained for their craft since early childhood. Representing a time-honored tradition that began more than 25 centuries ago, the Golden Dragons utilize award-winning acrobatics, traditional dance, spectacular costumes, ancient and contemporary music and theatrical techniques to present a show of breathtaking skill and beauty.
Read more about their amazing stunts at goldendragonacrobats.com.
More Ticket Information