DATE: Saturday, Jan. 27, 2018
TIME: 7:30 p.m.
LOCATION: Baldwin Auditorium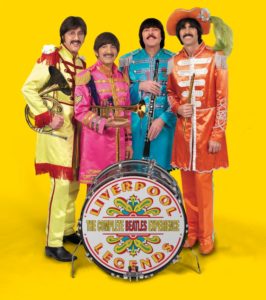 Start the new year off with a return performance by the lively Liverpool Legends Beatles Tribute Band made up of four incredibly talented musicians and actors hand-picked by Louise Harrison — sister of the late George Harrison of the Beatles. With renditions of songs spanning the entire career of the Beatles, and precise attention to every musical detail, along with costume changes, vintage instruments and special effects, you will feel like you are watching the real thing. The band has performed in venues such as Carnegie Hall and The Cavern Club in Liverpool, and to sold-out performances for more than 17,000 people at Arena Ciudad in Mexico City. They also received national attention when they re-created the Beatles famed 1966 concert at Busch Stadium in St. Louis. You will not want to miss this complete Beatles experience.
Check out liverpoollegends.com for more information on the only Beatles tribute band to ever perform Beatles songs on a Grammy-nominated album.