Saint Louis Brass
DATE: Monday, April 3, 2017
TIME: 7:30 p.m.
LOCATION: Ophelia Parrish Performance Hall
TICKETS: $5 (Tickets go on sale Monday, March 20, 2017)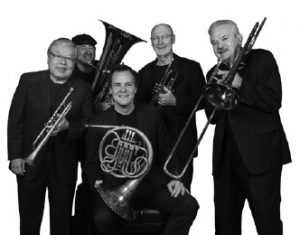 DESCRIPTION: Although the Saint Louis Brass may look formal when they appear on stage, audiences are pleasantly surprised at the relaxed and fun atmosphere they create.
With extraordinary grace, the ensemble transforms classical chamber music into a thoroughly enjoyable musical experience. The Kansas City Star concert review said the "Brass Quintet adds zaniness to its talents. Diverse material combined with imaginative presentation marked the engaging concert," while the Mason City Globe Gazette said "the Brass Quintet wows audience…standing ovations and shouts of praise."
Program
Volta  *4,6 
Michael Praetorius
arr. Allan Dean
Praetorius Dance Suite # 2  *4,6 


Ballet des Fues
Ballet/Bransles
Volta (reprise)

Michael Praetorius
arr. Allan Dean
Four Times Five


A Four Movement Suite

Joshua Hobbs
Animal Ditties No. 8 for Brass Quintet  *3 


The Duck • The Cow • The Rhinoceros • The Wasp • The Camel

Anthony Plog
Saint Louis Blues
Anthony Plog

∼Intermission∼

Saltarello  *3,6 
Anonymous
arr. Allan Dean
iTango  *6 


Libertango

Astor Piazzolla
arr. Allan Dean
Divertimento for Neglected (?) Musical (?) Instruments (?)  *6 
Wayne Scott
Tribute to Pops  *6 


Hello Dolly • Basin Street Blues • Struttin' with Some Barbecue
• What A Wonderful World • Mack the Knife



arr. Joey Sellers
*1 Recorded on "Baroque Brass" – DCD 120
*2 Recorded on "Pops" – DCD 140
*3 Recorded on "Fascinating Rhythms" – DCD 195
*4 Recorded on "Renaissance Faire" – DCD 284
*5 Recorded on "Colors for Brass" – DCD 116
*6 Recorded on SLB "Live in Concert" DVD
Recordings will be on sale in the lobby or at http://www.saintlouisbrass.com/
More information about the Saint Louis Brass can be found at SaintLouisBrass.com.