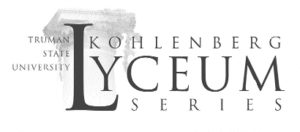 The Kohlenberg Lyceum Series at Truman State University broadens the cultural experience for students and the community. This longstanding series brings well-known speakers, dance troupes, musicians and other performers from all parts of the world to the Truman campus.
One of the University's oldest traditions, the Lyceum Series provides a unique opportunity for students to experience cultural presentations you would typically expect to find only in a big city. Funding for the Lyceum Series is provided by  generous donations made by Friends of the Lyceum and the proceeds from general admission tickets.
All performances take place at 7:30 p.m. in Baldwin Auditorium. General admission tickets are $10 and are available for purchase three weeks before the performance.
2018-2019 Lyceum Schedule
---