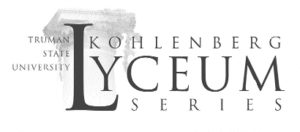 The Kohlenberg Lyceum Series at Truman State University broadens the cultural experience of the community through speakers, dance, music and drama. One of the University's oldest traditions, the Lyceum Series provides a unique opportunity to experience cultural presentations you would typically expect to find only in a big city.
Funding for the Lyceum Series is provided by  generous donations made by Friends of the Lyceum and the proceeds from general admission tickets.
All performances take place at 7:30 p.m. in Baldwin Auditorium. General admission tickets are $10 and are available for purchase three weeks before the performance.
2018-2019 Lyceum Schedule