Thank you for your support. We are offering all Lyceum programs for the 2020-2021 season at no charge.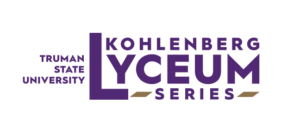 One of Truman State University's oldest traditions, the Kohlenberg Lyceum Series provides a unique opportunity to experience cultural presentations you would typically expect to find only in a big city.  The Lyceum Series broadens the cultural experience for students and the community by bringing well-known speakers, dance troupes, musicians and other performers from all parts of the world to the Truman campus.
Funding for the Lyceum Series is provided by  generous donations by Friends of the Lyceum and the proceeds from general admission tickets.